Skinner & T'witch
Drawing on music-hall and vaudeville traditions, Skinner & T'witch's show combines comedy and satire with folk, flamenco and theatre-style songs.
Steve Skinner has a background in musical theatre, having managed a theatre company and toured the country with musical reviews such as The Cuts Show and the Third World Road Show. Steve is an experienced songwriter, including comedy and satire.
Sandra Twitchett (T'witch) has a classical training, and has a passion for Choral music and singing, having herself sung with various choirs, including the Huddersfield Choral Society and the Munich Philharmonic Chorus. T'witch is a folk-rock chick at heart. She has an excellent ear for sound production and harmony singing, which contributes to the distinctive Skinner & T'witch sound.  
Skinner & T'witch have released five albums; performed widely around the UK; and recently toured in both Australia and the US.
'Skinner & T'witch are unique: there is nobody to compare them with. A pair of comic geniuses'. The Living Tradition 
'Some things just work. Skinner & T'witch are one of those things. An absolute must see.' Lakefest 
Book them if you can, and don't miss them if they are playing anywhere near you.' Ulverston Live Music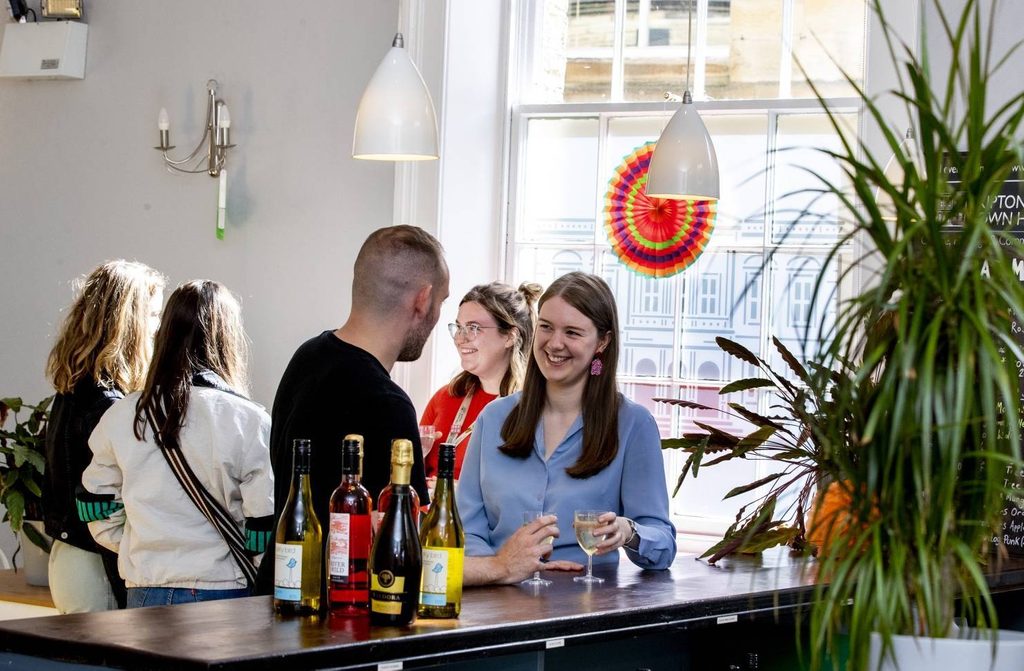 ◼ Refreshments
The Hub Bar
Our theatre bar opens one hour before most of our Events and Performances. We serve a selection of locally sourced drinks and snacks including North Brewing Beers, Mason's Gins, Northern Bloc Ice Cream, Yorkshire Crisps and Yorkshire Popcorn.