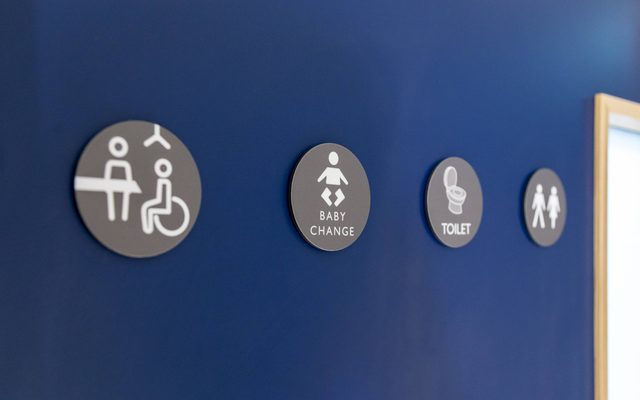 Accessibility
We want everyone to be able to enjoy Skipton Town Hall and we're working hard to ensure access for all our visitors.
Our Visitor Centre Team are here to help you during your visit and can be found in the foyer of our Vistor Centre, to offer information on the building and facilities. Whatever you need, please ask for their assistance during your visit or get in touch beforehand.
Entering the Building
Our spaces have been designed to be as accessible as possible. Our Concert Hall, Visitor Centre, The Hub, Education Room and Changing Places Toilet all have level access.

Side Entrance
The side entrance (Jerry Croft) has ramped access through power-assisted doors where you are able to access the Concert Hall, Visitor Centre, Museum, Exhibition Gallery and The Hub, across two floors.

Rear Entrance
The rear of the building (Museum Walk) has level access via the Stage Door where you are able to access the Education Room, Changing Places Toilet and lift to the First Floor where the Performers Changing Rooms and Museum Research Room can be accessed.

Front Entrance
The front entrance of the building (High Street) has access via five steps with handrails.

Visitor Centre Desk
We have a low level counter at our Visitor Centre Desk. Our friendly staff are happy to give you any information or assistance required.

Concert Hall
Our Concert Hall is a flexible space and the position of wheelchair spaces changes, depending on the demands of the event taking place. We offer a number of wheelchair spaces within the seated area at performances in the Concert Hall.

Main Toilets
The main toilets are on the ground floor to the right hand side of the Visitor Centre Desk.

Accessible Toilets
There are two accessible toilets throughout the building, one on the ground floor and one on the first floor.  All accessible toilets have a functional emergency alarm and wall mounted rails.

Changing Places Toilet
Please note the changing Places Toilet is closed for maintenance and will reopen on Tuesday 28th June. Sorry for any inconvenience. The closest Changing Places Toilet can be found at the Craven District Council Offices
There is a Changing Places toilet that is located next to the rear Stage Door entrance on the ground floor.
The facility has a height adjustable adult sized changing bench, a tracking hoist system and adequate space in the changing area for the person with additional needs and up to two carers.
Please ask a member of staff if you would like to access the Changing Places toilet.

Baby Changing
There are baby changing facilities in the women's toilet in the reception area. There are unisex baby changing facilities located next to the rear Stage Door entrance on the ground floor. Please ask a member of staff for access.

Audio Visual Access
Induction Loop
There are induction loops available in the Visitor Centre and the Concert Hall. Please ask a member of staff for assistance.
Museum, Exhibition Gallery and Visitor Centre Displays
Text, displays and Audio Visual aids in the Museum are all at an accessible height for wheelchair users.
Where we have audio options (listening posts) alongside Museum displays, there are accompanying transcripts available. Listening posts included in displays have an induction loop in-built, so those with hearing aids can connect automatically.
The Audio Visual aids in the Visitor Centre have a screen reader to accompany the listening post.

Seating
There are a number of portable stools available for use in the building, located to the left of the Museum entrance and to the right of the Emergency Exit inside the Museum. Please ask a member of staff for assistance if needed.
There are fixed benches in the Visitor Centre, to the left of the Museum entrance.

Lifts
We have lifts providing access to all floors of our venue. There are two lifts located in the building. The first is a platform lift located to the right of the Museum entrance, in the Visitor Centre. This enables access to the Exhibition Gallery located on the First Floor.
The second lift is located close to the rear Stage Door entrance to the building. This enables access to Stage Level in the Concert Hall and facilities on the First Floor, such as Changing Rooms for performers. The external call buttons are at an accessible height for wheelchair users.

We are an Autism friendly venue.
If you would like to wear hooded tops, baseball caps, gloves, dark glasses and/or noise cancelling headphones when you come to visit us, that's fine with us.
We can organise to make quiet space available with any of the following: floor mats, bean bags, pillow, fidget spinners, stress balls, noise cancelling headphones and weighted blankets. Just tell us what you need.
If you can give us advance notice of your visit that would help us a lot, but if you can't we will try our very best to accomodate your needs. Please let us know if there is anything else we can help with on your visit.

Relaxed Sessions & Performances
Join us for a relaxed session in Craven Museum on the first Monday of each month. Relaxed sessions run 9.30 -10.30am & 3.30 – 4.30pm
Relaxed sessions are aimed at people with additional sensory needs and anyone else who may benefit. Sessions are available to individuals, groups and families to make visiting the museum more accessible.
During relaxed museum sessions –
Light levels will be raised.
Sound levels will be reduced.
Visitors can make as much noise as they like.
Ear defenders are available.
Quiet Spaces are available
Object handling sessions are running.
If you have any specific access requirements you would like to discuss in advance of your visit please don't hesitate to contact us.
Have a look at our What's On page for upcoming Relaxed Performances. They include a monthly Parent & Baby Film Club.

Safe Space Alliance
What is the Safe Space Alliance?
The Safe Space Alliance is a LGBTQI+ led nonprofit organisation that aims to help people identify, navigate, and create safe spaces for LGBTQI+ communities worldwide. Being part of the Safe Space Alliance is being part of a global and collaborative safe space community.
What is a safe space?
A safe space is a space where LGBTQI+ communities can freely express themselves without fear. It is a space that does not tolerate violence, bullying, or hate speech towards LGBTQI+ communities.
A safe space does not guarantee 100% safety, rather, it's a space that has your back if an incident (violence, bullying, or hate speech) were to occur.
Skipton Town Hall is a safe space.

North Yorkshire Safe Places
A safe place is where anyone who might need a little more help and support when they are out and about in the community can call in to get assistance.
Members of the scheme carry a 'keep safe' card and may have a wristband. On the card there is a call centre number that can be contacted by the safe place to check the person's details. The call centre will then contact the person's responders to make sure someone who knows them the best can come to take them home.
The safe place will make sure that the person is safe and feels comfortable until their responder is able to attend.
Skipton Town Hall is a North Yorkshire Safe Place