LGBTQIA+ FILM FEST: Rafiki
Fri 24th June 2022 8:00pm
Join us for our LGBTQIA+ Film Festival and enjoy uplifting, thought provoking independent cinema.
With beautiful scenes connected through shades of fuchsia and violet, reflecting the femininity of the characters, this gentle film follows the development of love between two young women. Set against the backdrop of the bustling streets of Nairobi, the two very different girls must choose between love and safety surrounded by insular gossip, local politics and burgeoning maturity. Their magnetic pull draws us into a queer Romeo and Juliet romance, as they try to hide their relationship from their politically opposing fathers.
Directed by Wanuri Kahiu, part of a strong cohort of Kenyan female filmmakers, Rafiki was the first Kenyan film to be included in the Un Certain Regard section in Cannes in 2018 and was then controversially banned from being shown in Kenya by the Kenya Film Classification Board.
The Hub bar will be open all evening.
Important Information:
Released: 2018
Certificate: 15
Run time: 1h22m
Swahili with English subtitles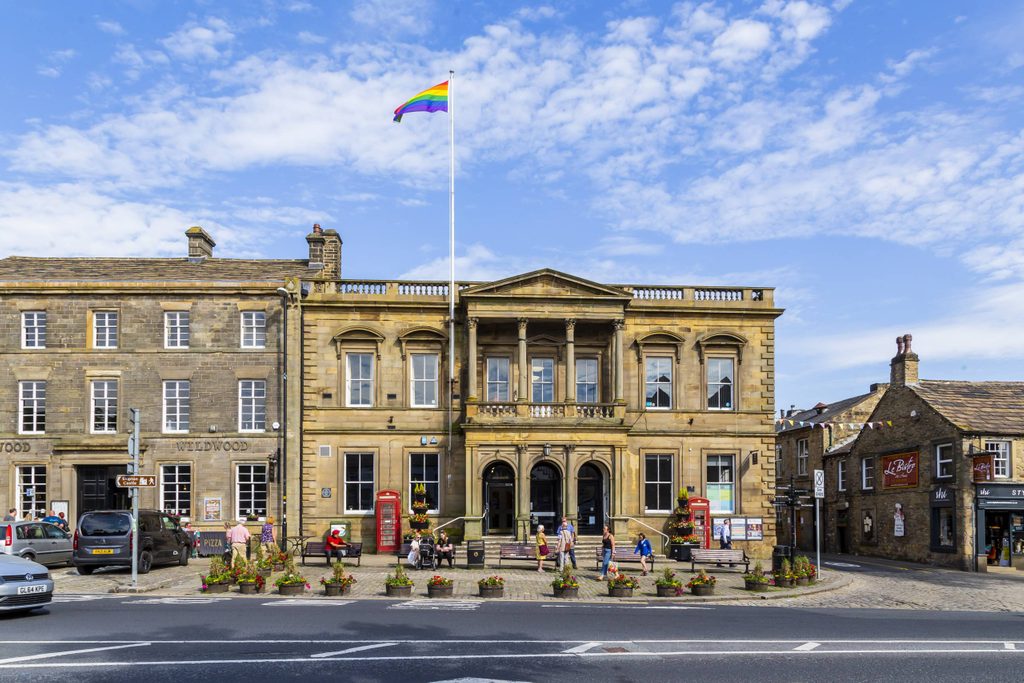 ◼ About Pride
Skipton Pride
This year Skipton will hold its first Pride event in Aireville Park on the 2nd of July, 50 years after the first ever UK Pride.
Pride is a time when millions of people across the country come together in love and friendship to support their local LGBTQIA+ communities. Events celebrate how far LGBTQIA+ rights have come, and highlight work still to be done toward true equality for this part of our community.
Throughout June, on the build-up to Skipton Pride, you can enjoy a Pride programme of events at Skipton Town Hall – including a film festival and special Pride editions of Make & Take crafts and Skipton Comedy Live. The Concert Hall will be the venue for the Pride Afterparty where you can enjoy an evening with internationally renowned drag act, Velma Celli!
Bring your friends and family along to Skipton Pride to stand up in unison for equality and diversity in your local area.