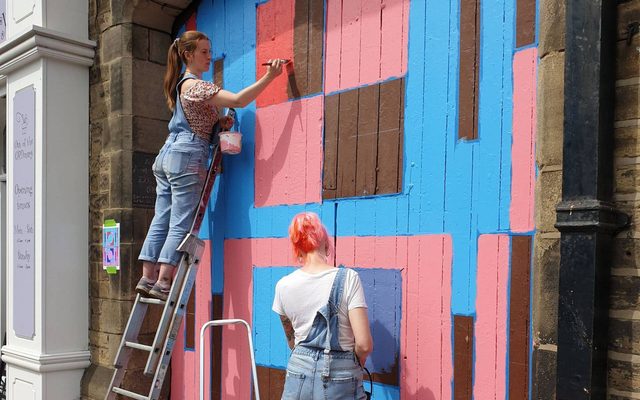 Skipton High Street Heritage Action Zone
Funded by the Ministry of Housing, Communities and Local Government and administered by Historic England, Skipton's High Street Heritage Action Zone (HS HAZ) seeks to find new uses for empty historic buildings in and around the High Street. It aims to attract younger people to the town centre through the creation of public spaces for cultural activities, and the development of youth markets and festivals.
For more information or to get involved contact Deborah Cross Deborah.Cross1@northyorks.gov.uk

Main Programme Objectives:
Residents re-engage with the town centre – with a focus on attracting younger people to use the town and drive the local economy
Re-use/re-purpose heritage buildings – to bring redundant spaces back into use by attracting younger people to live, work and visit the town centre
Create public spaces for new and diverse activities – use the historic fabric of the town to generate opportunities for young people that will change the cultural role of the town centre.
Enhance the links between the High Street and hidden parts of Skipton – by emphasizing the heritage aspects of the ginnels, people are encouraged to explore and dwell for longer.
Increase the number of young creatives working in Skipton – provide more opportunities for young creatives to produce and display their products which will change the look and feel of the town centre.
Walking and cycle friendly town – make it easier and safer for people to walk and cycle around Skipton, using the built heritage for interest in order to increase footfall and dwell time.

Main projects to deliver on those objectives are:
Skipton Town Hall – create a Cultural Centre including Museum & Performance Venue
Craven Arts House, Otley Street – transform an old community centre into a creative/workshop space for artists and performers
The Canal Quarter – re-branding, public realm and accessibility enhancements
The Ginnels – declutter, restore and enhance linkages between the High Street and secondary retail areas, such as Coach Street.
Skipton Market – improve and extend the market infrastructure in order to encourage new and young enterprising traders to create a diverse shopping experience.
Conservation & Heritage Programme – review & assessment of Skipton's historic and listed buildings.
Cultural Programme – involve young creatives from local cultural and heritage organisations to engage and nurture local talent in a variety of art, music and entertainment projects.
Cultural Programme Projects