Skipton Comedy Live: Vince Atta, Martin Mor & Kate McCabe
Presented by Plane Comedy
Join us for the first instalment of our new live comedy night. Plane Comedy present some of the best stand-up the UK has to offer. Laughter truly is the best medicine, so why not add our monthly comedy night to your 2022 self-care routine!
The Hub theatre bar will be open throughout the evening, serving a selection of locally sourced refreshments.
Plane Comedy MC – Colin Manford
Colin Manford is a North West based comedian who also happens to be Jason's little brother! An accomplished writer, actor and presenter who just loves to tell stories from his own unique perspective, all areas covered from his failed relationships to his weird and wonderful family life and more.
February Line-up
Headline Act – Vince Atta
It's fair to say that everything Vince Atta touches turns to gold. His high-octane performances, stunning delivery & flawless array of impressions leave you short of breath. With a broad, wonderful spectrum of material ranging from students, Spanish horses in a kitchen, psychotic London ex-girlfriends, pointless racial pride & the advantages of an alcoholic mother, Atta brings an inspiring touch of pathos which demonstrates an unerring ability to turn experience into bullet proof comedy.
Martin Mor
Martin comes from Northern Ireland, and after a successful career as a circus performer, he turned his attention on the unsuspecting comedy circuit.
With over 30 years experience as a professional performer, Martin has established himself as one of the UK's most popular and in-demand comedians. Martin has performed successfully at events of all description; from the Hammersmith Apollo to a show for the inmates of an Italian prison, from comedy clubs to performing in some of the most unique, and unusual locations.
Kate McCabe
Kate McCabe has been gigging on this side of the Atlantic for several years after starting her comedy career in NYC. She also performs with improv troupe ComedySportz Manchester and regularly appears on Fab Radio's 'The Gay Agenda' and on Gaydio's 'The Exchange'. When she's not working, she enjoys comic books, Playstation, snacking, and nap-time.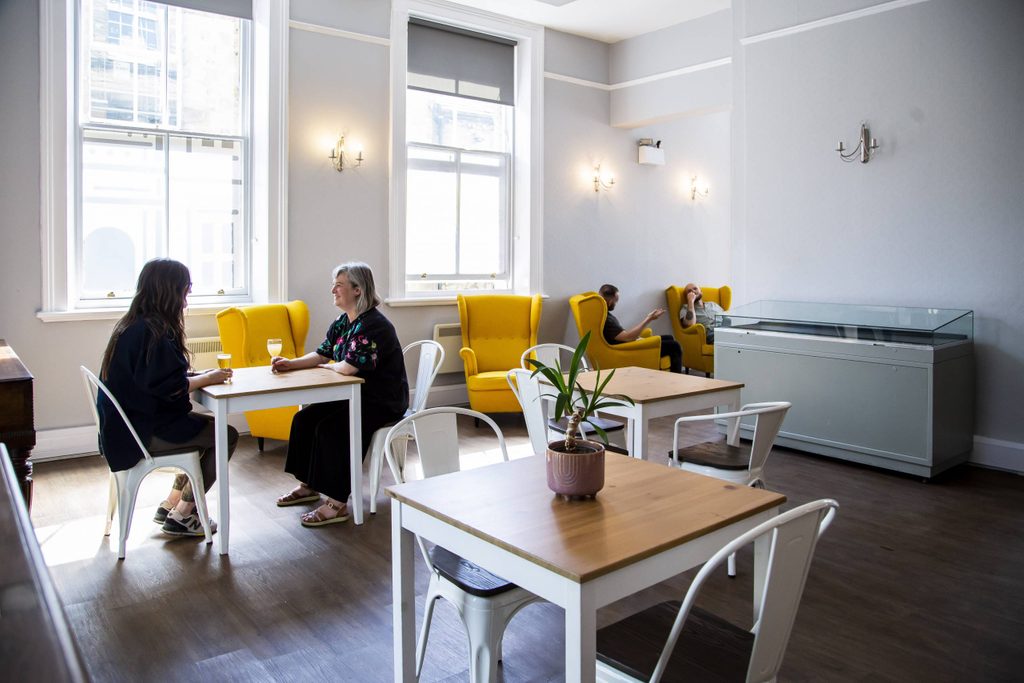 ◼ Refreshments
The Hub Bar
Our theatre bar opens one hour before most of our Events and Performances. We serve a selection of locally sourced drinks and snacks including North Brewing Beers, Mason's Gins, Northern Bloc Ice Cream, Yorkshire Crisps and Yorkshire Popcorn.