Skipton Comedy Live: February
Presented by Plane Comedy
Skipton Comedy Live is back for 2023!
Join us as Plane Comedy present some of the best stand-up the UK has to offer. Laughter truly is the best medicine, so why not add our monthly comedy night to your self-care routine!
Our regular MC Colin Manford (yes he happens to be Jason's little brother) will be hosting three fantastic comedians that will have your sides splitting.
The Hub theatre bar will be open from 7pm and throughout the evening, serving a selection of locally sourced refreshments.
February Line-up: Eddie Fortune, Big Lou & Karen Baylor
Eddie Fortune
Eddie Fortune is a Liverpool based comic described as a comedic Tornado, talking about the woes of dating, work life and the need to stay in shape, he occasionally mistakes himself as a Julia Roberts from pretty woman. His act can be a gag a second or an existential monologue, poem or song. Displaying a contradictory self-deprecating confidence, and heckling the audience with beautiful compliments, Eddie is also a Theatre Producer for Crumbs Theatre, Liverpool. A true performer, from satisfying one liners to terrific five-minute story telling rants!
Big Lou
Lewis, who is also known as Big Lou, is a well-known face on the comedy scene. He has a commanding stage presence matched by his punchlines and timing of their delivery. He has become a favourite on both the comedy circuit and after dinner circuit since he burst on to the scene back in 2010 with his modern twist on old school joke telling. He's like a cross between Les Dawson and Jimmy Carr! Big Lou has played most of the premier comedy venues in the Northwest and beyond. Big Lou also presents a Tuesday and Saturday Night FM Radio Show. He is a quick witted, laugh a minute, big hearted comedian who will take any audience by storm.
Karen Baylor
Karen Bayley has a delightfully saucy, friendly and confident stage presence. Add her wit, and infectious giggle along with devastating one-liners, this combined certainly makes her a huge force to be reckoned with. Bayley has been on the professional circuit now for over a decade, performing at only the best comedy clubs across the UK and beyond. Early in her career Karen picked up several awards reaching the final of the coveted BBC New Comedy Awards, and winner of the Komedia new act prize and also reached the finals of the BBC New Comedy Awards Showcase. Karen was also the first ever female winner of the prestigious competition at the Comedy Store – King Gong. Most recently Karen has been supporting Joe Lycett on his UK tour. Her bold, no-nonsense attitude strikes a perfect pitch with men and women alike, and she is equally at home compering or performing sets.
Important Information:
This event is suitable for 18 years+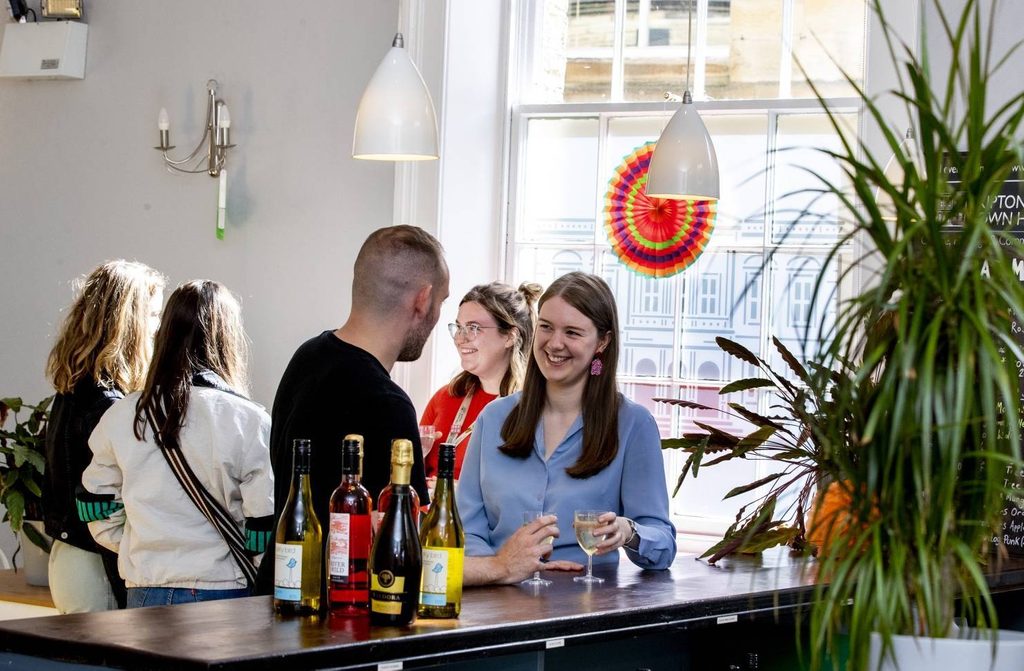 ◼ Refreshments
The Hub Bar
Our theatre bar opens one hour before most of our Events and Performances. We serve a selection of locally sourced drinks and snacks including North Brewing Beers, Mason's Gins, Northern Bloc Ice Cream, Yorkshire Crisps and Yorkshire Popcorn.