Limbo And An Evening Of Syrian Music & Food
Hinterlands International Rural Film Festival
We are very excited to be a venue partner for Hinterlands International Rural Film Festival 2022. There are three events happening at Skipton Town Hall over the festival weekend. See that What's On page for more details.
Join us for an evening of Syrian food and music followed by a screening of Limbo, a timely film about a young Syrian musician on a remote Scottish island and his asylum status as a refugee.
Separated from his family, the young musician anxiously expects to hear back about his asylum. As he shoulders the weight of his grandfather's oud, the wait seems to be much longer.
Director
Ben Sharrock
Runtime
1 hr 43 mins
Cast
Amir El Masry, Sidse Babett Knudsen
Year released
2021
Certificate U
Live Music — Rihab Azar
Acclaimed oud player, Rihab Azar, born in the Syrian city of Homs, will be performing prior to the screening. Arts Council England recognised her as a musician of Exceptional Promise, allowing her to continue her professional pursuit in the UK under the Migrant Talent scheme. She has toured internationally and continues to advocate for intercultural music-making, diversity and inclusion.
Food
While listening to the beautiful sounds of the oud, enjoy a buffet of traditional and modern Syrian recipes (including vegetarian options). The buffet will be served prior to the screening, from 7pm until 8pm.
Short film – Ruth & Safiya
Filmed on location in Skipton, this story follows an unlikely friendship between Ruth – an isolated pensioner in her 80s that visits her allotment daily, and Safiya – a teenage Syrian refugee that is struggling to adapt to her new life in Bradford.
Directed by Louise Rose Mackleston.
This will be screened at 8pm, before Limbo.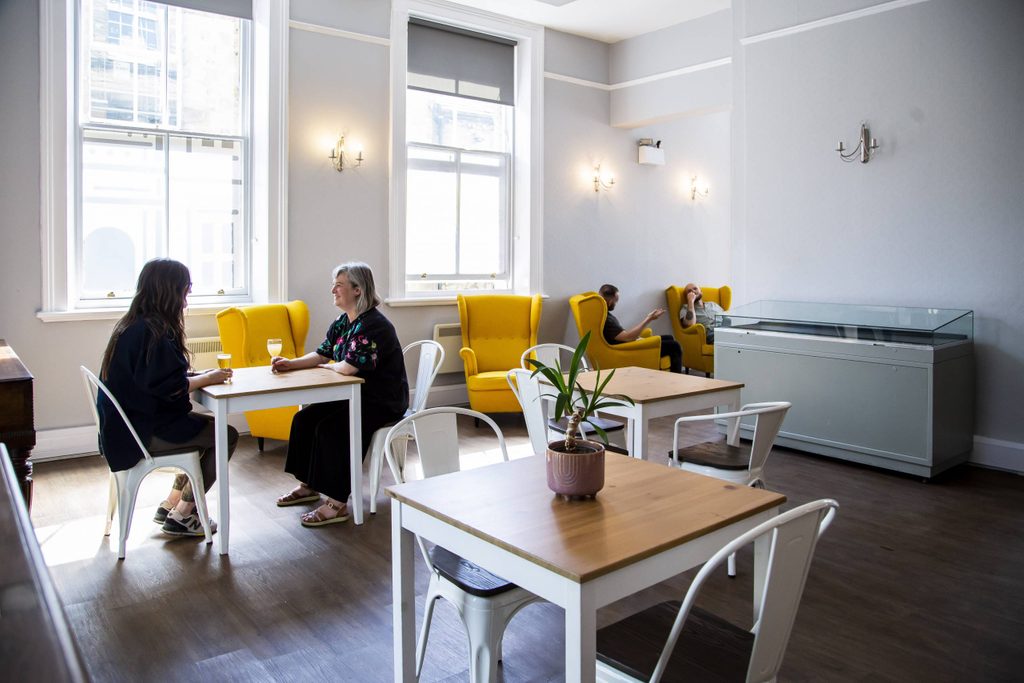 ◼ Refreshments
The Hub Bar
Our theatre bar opens one hour before most of our Events and Performances. We serve a selection of locally sourced drinks and snacks including North Brewing Beers, Mason's Gins, Northern Bloc Ice Cream, Yorkshire Crisps and Yorkshire Popcorn.